Residential and Commercial Real Estate
The attorneys at Houghton, Gordon & Mulligan have extensive experience conducting residential and commercial closings and representing lenders. The decision to buy or sell a home or commercial property can be daunting. At Houghton, Gordon & Mulligan, we strive to make this process as seamless as possible, while keeping the costs as low as possible. We work to guide our clients and ensure that our clients are well-informed from beginning to end, whether that be by discussing title insurance options, explaining homestead rights, or understanding ownership interests in a particular property. Our attorneys negotiate, draft and review clients' purchase and sale agreements. We also coordinate financing, obtain clear title to the clients' respective properties, walk the client through the closing process and explain the closing documents, and handle recording of the deed with the appropriate registrar. We want our clients to feel comfortable, because we know buying or selling real estate is a very important decision.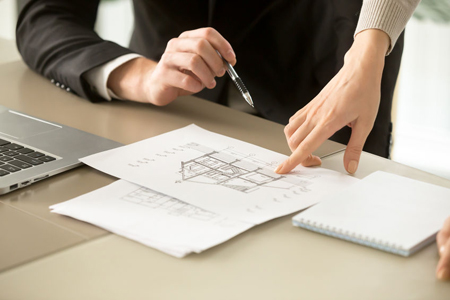 Zoning and Land Use
Attorney Charles F. Houghton has over 40 years' experience in zoning and land use matters. The firm has repeated success in obtaining variances, special permits and subdivision approvals, as well as licenses in Stoneham and the surrounding communities. The firm works with developers and property owners in both residential and commercial settings. The firm will work to redevelop existing structures for new uses, develop uses for new property, and the firm also handles leasing issues, as well as resource preservation matters. The firm will provide zoning analysis and permit requirements. Because these types of legal matters involve complex analysis and are time-consuming, hourly rates are generally slightly higher than basic residential and commercial real estate matters; however, the firm endeavors to anticipate and resolve issues prior to occurrence to minimize and diffuse existing issues and future costs.
Contract, Property Disputes and Real Estate Litigation
At Houghton, Gordon & Mulligan, the attorneys have comprehensive experience settling disputes; however, we understand that resolving disputes amicably is not always feasible. We also resolve conflict through litigation and trial. We work with each client individually and resolve matters involving contractual and/or property disputes, including landlord-tenant issues.
Disclaimer: Although we may likely be able to help you resolve your issue, this website and the information it contains is legal advice, and you may not establish an attorney-client relationship by using this website.